I was just about to complain about this weekend ( blog design woes) but then i saw this little gem via
muchlove-anna
if you don't already love this blog then hope over, Anna does a feature "much love Monday" where you start the week with something positive rather than the typical Monday blues.
Which is what im about to do, so lets embrace this here day...
first up the customary heart picture
and now for something i love..well i love my little girls who i made the little heart with, kids are so cute, everything is fun for them and they wake up with such energy.
im not sure if i missed the ombre hair boat, but i love her hair and will be clinging to this picture when i go get my hair cut this week..
camila alves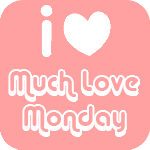 http://muchlove-anna.blogspot.com